Travel Insurance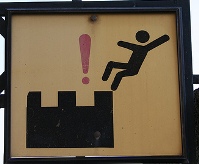 When planning your Greece vacation, travel insurance is probably the last thing you want to think about. That's if you are among those who would consider travel insurance. Most travelers and particularly budget travelers prefer to be "risk-takers".
But let's talk about why you should at least consider getting a quote. While Greece isn't a dangerous place, sometimes the weather can play nasty tricks. And when that's the case, ferries and flights do get canceled, especially during spring/fall. Earthquakes are common in Greece and having travel insurance can bail you out in case of emergency.
If you come from a European Union country, your health insurance is already covered by your national insurance (if you have one), but you aren't covered if you have to cancel your trip.
Types of travel insurance
Trip Protection Insurance/ Trip Cancellation Insurance
This type of insurance covers the non-refundable travel expenses in case something unexpected happens, such as airline strike, death, acts of nature, bankruptcy of the travel operator and many more. The cost is calculated as a percentage of the trip cost (which basically represents all the money have pre-paid or you have to paid to travel operators and which are not refundable in case the trip is canceled).
Click here to get more information or a quote on Trip Protection Insurance.
Travel Medical Insurance
This type of insurance covers the emergency medical expenses, including hospitalization and surgeries. While many Americans don't even have a health insurance at home, let alone think about one when traveling, European Union citizens are covered by the national insurance (which his valid in any European Union country).
Greece is obviously not a dangerous place but if you consider some "wilder" activities you might want to get a travel medical insurance.
Click here to get more information or a quote on Travel Medical Insurance.
Emergency Evacuation Insurance
This insurance covers the costs for your emergency evacuation to an adequate medical facility / hospital near your home, if you became seriously ill or injured during your trip.

Click here to get more information or a quote on Emergency Evacuation Insurance
Flight/Travel Accident Insurance
This insurance covers you in case something terrible happens to your flight (including terrorist event). The airlines in Greece have good safety records so that should give you some piece of mind.
>>more information on flight/travel accident insurance
Annual Multi-Trip Insurance
If you are a frequent traveler you should definitely consider this type of insurance. It offers great value for money if you spend a lot of time traveling, either for business or pleasure.