| June 29th, 2012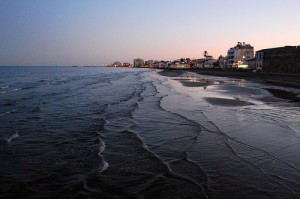 Cyprus is an island in the Mediterranean Sea, located geographically in Asia, but politically belonging to Europe. Many travelers who spend their vacation in Crete also want to explore Cyprus. The four big cities in the country are: Nicosia (the capital), Larnaca, Limassol and Paphoss.
Quick summary
The quickest way to get from Crete to Cyprus is by plane. Fly directly between Heraklion and Larnaca or look for connections between Chania and Larnca via Athens, especially when Aegean Airlines has some discounts. You can also travel by ferry and bus via Turkey, but it's not a good idea if you have limited vacation time.
Flights from Crete to Cyprus
There are two airports you can fly from Crete: Heraklion (HER) and Chania (CHQ). There are also two airports in Cyprus to use: Larnaca International Airport (LCA) and Paphos International Airport (PFO).
You can fly from Heraklion into Larnaca non stop on Aegean Airlines. In late August 2012, the single fare starts at €136 , while a return flight starts at €238. It's actually cheaper to fly via Thessaloniki , but the travel time is more than half a day (including the layover).
There are no direct flights from Heraklion into Paphos. You'll have to make at least a stop along the way. A flight via Russia starts at €531 one way.
There aren't also direct flights between Chania and Larnaca, but if you fly via Athens, the cheapest option in late August 2012 starts at €156 one way and the travel time is 4 h.
You cannot fly directly from Chania into Paphos either. And with at least two stops along the way, this is the most expensive route possible between the two islands.
>>read more about Airfare to Greece
Ferries and bus from Crete to Cyprus

Unfortunately, there are no direct ferries between Crete and Cyprus. You can travel via Turkey, though.
Step 1 Crete to Rhodes by ferry
There are two ports on Crete which offer connections to Rhodes: Heraklio and Sitia.
The summer schedule is as follows:
Heraklio to Rodos; Wed, 9:10 a.m., until Aug 29
Heraklio to Rodos; Sat 9:50 a.m, until Sept 1
Sitia to Rodos; Wed, 12:25 p.m., until Aug 29
Sitia to Rodos; Sat , 1:05 p.m., until Sept 1
A deck seat costs €26 one way, while cabins start at €73 one way.
Step 2 Rhodes to Fethiye, Turkey, by ferry
During summer (Jun 14 to Sept 30), there are daily departures, except on Mon ; Tue, Sat, Sun at 8:30 a.m. ; Wed, Thu, Fri at 4:30 p.m. In October, ferries don't work on Mon and Thu. The single fare is €50.
Step 3 Fethiye to Tasucu or Alanya by bus ( 428 km)
Step 4 Tasucu or Alanya to Northern Cyprus by ferry
There are both slow and fast ferries departing from either Turkish port to Northern Cyprus. The ferry between Tasucu and Girne takes 10 hours and departs daily at 12 a.m. from Turkey. The departure from Girne is daily at 9:30 a.m. There's also a fast ferry between Alanya and Girne. It departs Mondays and Thursdays only and the single fare is US$30.
>>read more about Ferries in Greece
Note: the article was first published in August 2011 and has been updated (prices) as of June 2012.