| May 8th, 2009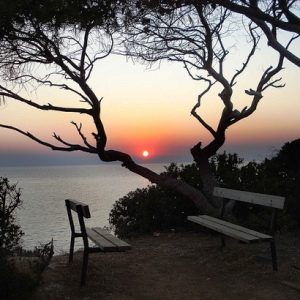 Halkidiki (or Chalkidiki) is located in northern Greece, just 100 km from Thessaloniki . There are three peninsulas which form Halkidiki: Kassandra, Sithonia and Mount Athos. While Mount Athos can be visited only by men (holding a special permit), the other two peninsulas are very popular among travelers. Kassandra is the most developed tourist area in Halkidiki and offers luxury facilities, great hotels and resorts. Sithonia is also popular among tourists, offering modern facilities and lovely hotels (some of them open year round).
The entire area is very popular among European travelers so if you plan to spend your vacation here during the high season (July & August) make sure to book well in advance and plan for crowded beaches, hotels and restaurants.
Don't worry much about the languages spoken here: English can be heard everywhere. Hotels usually hire personnel from other European countries so you might have the pleasure to use your native language as well.
There are numerous resorts and towns in the area so make sure to know where your hotel is located (unless you arrange for a shuttle to pick you up at Thessaloniki airport). Places such as Kassandra, Fourka , Dionysiou and Skioni are very popular among holidaymakers.
First stop: Thessaloniki
Halkidiki doesn't have an airport, train station or a port to receive ferries from the rest of the country, so your first stop should be Thessaloniki.
Greece's second largest city is served by Thessaloniki International Airport, which receives flights from all over Greece, as well as Europe.
There are also ferries connecting Thessaloniki to Greek islands and cities: Kios, Kalimnos, Karlovassi (Samos), Kos, Lesvos, Limnos, Piraeus (Athens ), Rhodes and Vathi (Ithaca).
And if you prefer the train, you can get to Thessaloniki from Greece mainland and plenty of European cities.
Getting from Thessaloniki to Halkidiki
By bus
The cheapest way to get to Halkidiki is by bus. The buses depart from the KTEL Thessaloniki for Halkidiki bus station about every hour to all towns in the peninsulas. Please note that the bus station for Halkidiki is located in the eastern part of the city (so it's not the main station).
If you need to get to Halkidiki from Thessaloniki airport, first you have to get to the KTEL station. You can either catch a bus or a taxi. The bus ticket costs €10* per person, one way.
Assuming you are heading to Kassandra (or Kassandria), the first bus leaves at 5:45 a.m. and the last one at 8 p.m. The schedule changes according to the season and of course, during July & August there are more connections than during the rest of the year. It takes about 1 h 30 min to get to Kassandra from Thessaloniki. The bus ticket costs €6* per person, one way.
Useful information:
KTEL Thessaloniki phone number: 2310 924444
KTEL Kassandra phone number: 2374 022214
>>get some details here
By taxi
It is possible to get to Halkidiki by taxi from Thessaloniki (either from the airport or from anywhere else in the city). The fare varies according to your destination but expect to pay at least €50 (from the airport).
By car
You can rent a car (directly at the airport or somewhere in town) and drive to Halkidiki. The distance to Kassandra is about 78 km and takes about 1 h 20 min to drive there.
Here's a map with the driving instructions from Thessaloniki to Kassandra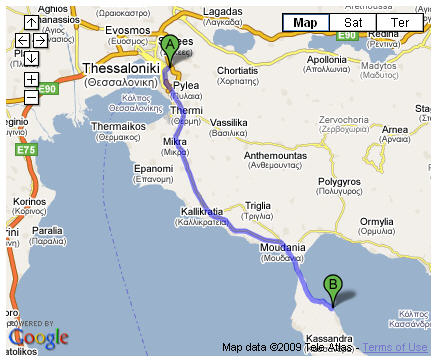 Note:
* prices change from season to season so make sure to double check them before planning your budget
the article was first published in May 2009 and updated in August 2012.
Other related information:
>>Getting from Athens to Thessaloniki
>>Getting from Athens to Piraeus
>>Getting from Athens to Meteora
>>Getting from Athens to Santorini
>>Getting from Athens to Istanbul
>>Getting from Athens to Corfu
>>Getting from Hydra to Santorini (and return)
>>Getting from Thessaloniki to Kavala