| July 6th, 2012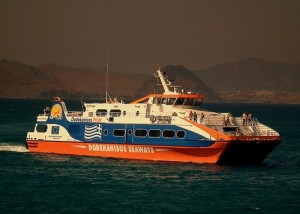 Kos is the second popular island after Rhodes in the Dodecanese group, close to the Turkish coast. It is very well organized in terms of travel facilities. It is the birthplace of Hipocrates, the father of medicine. The ruins of the asclepeion, an ancient sanctuary where Hipocrates trained can still be visited. Neratzia Castle, the Castle of the Knights of St John, is another interesting place to visit.
Since most travelers land on Athens' airport, traveling between the capital and the islands is a must. Kos is one of the most popular Greek islands and also a gateway to Turkey, which makes it a popular stop among those who explore this area of Europe.
Quick summary
If you are in a hurry, there are quite a lot of daily year round flights between Athens and Kos. Unless you find a special sale, prepare to part with about €80 one way during late summer and close to €60 during shoulder season.
If you plan to travel during the shoulder and high season, a good option is the ferry. Although it takes about 11 hours to get between the port of Piraeus and Kos, ferries are good options especially when the airfare increases during the high season. Ferry tickets start at €48 one way, for an economy seat.
Flights from Athens (airport code: ATH) to Kos
Elefthérios Venizélos International Airport is the most international gateway into Greece and a major hub for Aegean Airlines and Olympic Airlines. The domestic flights also depart from here. There are direct flights to Kos (KGS) operated by Aegean Airlines and Olympic Air.
In late August 2012, expect to pay from €78 one way on Olympic Air. The flight time is 55 min. A round-trip flight starts at €159. By mid-October 2012, expect to pay from €59 one way on Aegean Airlines. These prices can be found on online booking engines. However, don't expect to find very low prices on the airline's websites. But you might have some luck when there's a special sale available.
>>read more about Flights to Athens
Ferries from Athens to Kos

It is also possible to travel by ferry from Athens – the port of Piraeus – to Kos. The travel time is about 11 hours.
During the high season 2012, the following ferries run between Piraeus and Kos:
Wed, 3 p.m. until Aug 29
Mon, 3 p.m. until Aug 27
Fri, 5 p.m., until Aug 31
Tue, Thu, Sun, 7 p.m. Jul 29 to Aug 2, Aug 5 to Aug 9, Aug 12 to Aug 16, Aug 19 to Aug 23, Aug 26 to Aug 30
Sat, 11 p.m., Aug 4, 11 , 8, 25
Fri, 7 p.m. Aug 3, 10, 17, 24, 31
Wed, 7 p.m., Aug 1, 8, 15, 22, 29
During the high season 2012, the following ferry connections are available between Kos and Piraeus:
Fri, 1:50 a.m., until Aug 31
Sun, 4:40 a.m., Jul 8 to Sept 2
Tue, 7:25 p.m., until Aug 28
Tue, 8:35 p.m., Aug 7, 14, 21, 28
Sat, 8:35 p.m., Aug 4, 11, 18, 25
Mon, Wed, Fri, 8:35 p.m., Jul 30 to Aug 3, Aug 6 to Aug 10, Aug 13 to Aug 17, Aug 20 to Aug 24, Aug 27 to Aug 31
Thu, 8:35 p.m., Aug 2, 9, 16, 23, 30
Sun, 8:35 p.m., Aug 5, 12, 19, 26
An economy class ticket on the regular ferry costs €48 for an adult, one way.
>>read more about Getting from Athens to Piraeus
Note: the article was first published in September 2011 and has been updated (airfare and ferry schedule) as of July 2012.

Photo credit